Plug-Flow Photoreactors
From laboratory to tailor-made industrial production
In the field of specialty chemicals, increasingly small, modern and competitive photoreactors are required, which have a high degree of flexibility and also can be used for a large number of products. The focus is also on the processing of small process volumes and the ability to implement and control reactions, which are for example highly exothermic.
The above requirements preclude the use of conventional photoreactors due to the usually larger process volume, since these can not be operated without taking a significant risk (unwanted runaway scenarios). The experts at Peschl Ultraviolet GmbH have developed a large number of application-specific plug-flow photoreactors, which in principle can be subdivided into two types:
Tube bundle reactors: These plug-flow photoreactors are equipped with tubular reaction channels, which are arranged as a bundle around a centrally arranged light source (annular plug-flow photoreactor). In these reaction channels, there is a so-called plug-flow present. This can by imagined as a migration of a very long series of very thin slices of reaction mass passing through the tube.
These slices have no material or heat exchange with each other and within the disk all concentrations and the temperature are the same. Here the material transformations take place along the flow path. At a given location on the pipe, the same concentrations are present at all times. The concentrations of the substances, however, change along the pipe.
Planar reactors: This advantageous design of the Peschl Plug-Flow Reactors allows process control in structured reaction channels with static mixers (micromixers) or thin films films. These can be put together individually or in bundles for scalability purpose.
With the Peschl Plug-Flow photoreactors operating pressure up to 40 bar and a high temperature spread can be realized. The photoreactors are suitable for reactions with high exothermicity, as well as for reactions which require excessive mixing and can achieve significant improvements in terms of yield, selectivity, product quality and safety. This allows access to new routes of synthesis and process control while achieving high space / time yields.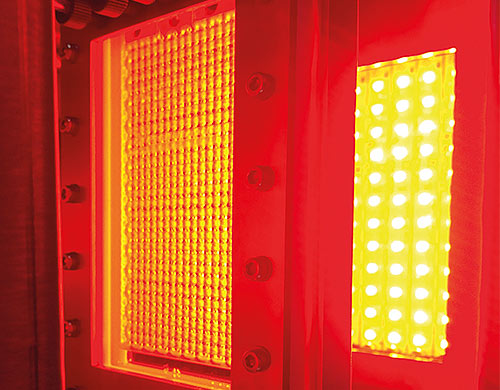 Two types of Modular Photochemical Development Systems (MPDS®) are used in the laboratory. With the MPDS®BASIC system, fundamental feasibility studies are performed while with the MPDS®EVO the process development is performed to collect all relevant data for successful up-scaling
Pilot photoreactor systems are available to guarantee a safe up-scaling process in complex synthesis steps, with the aim to quantify the space-time yield and productivity of the industrial-sized photoreactor. With this data, more precise CAPEX and OPEX analysis can be performed and hydrodynamic effects can be analysed and understood.
Industrial-size photoreactors are commercially available and tailor-made for each individual process. However, based on the high level of standardized components, such as immersion lamps with Ex-approvals, this task is routine and can be performed fast and reliable with the power density required for highly efficient production.
Typical Processes
Peschl Plug-Flow Photo-Reactors are applied in industrial-scale production processes including, but not limited to:
API and intermediate synthesis (e.g. Iribotecan by Cis-Trans Isomerization and Artemisinin by Singlet Oxygen Reaction)
Mercaptan synthesis (e.g. Cyclohexylthiol via H2S addition)
Fragerances (e.g. Rose Oxyde via Singlet Oxygen Reaction)
What services we offer
Engineering and supply of industrial-sized photochemical reactors
Scale-up of your process from lab-size to industrial-size
Scale-down of your process from industrial-size to mini-plant-size
Photochemical process consultancy
HAZOP studies for safe operation
Commissioning support, on-site service
Technical Features
Gas-discharge, Excimer and LED lamps
CFD optimized flow
Optimum controllability of reaction parameters due to low system inertia
Short residence times
Easy numbering-up within defined limits
Simple automation and sequencing
Inline purification and analysis
Multistep sequencing
Continuous processing
Suitable for hazardous / sensitive compounds with high operational safety due to low quantities of substances
Effective mixing for increased mass- and heat-transfer
Consistant reproducibility and scalability
Suitable for previously inaccessible chemistry
Download
Plug-Flow Photoreactors PDF

Please enter your name and Email address to generate a download link directly.
Any questions?
Please ask us