Scalable Flow-Photoreactors
From laboratory to tailor-made industrial production
The Flow Photoreactor series are built on the proprietary COSTA™ technology. This patented technology for continuous operationstands out from all known designs and functions by its unique properties.  It allows you to implement flow photochemistry from the early discovery phase and seamlessly scale it throughout the process development stage up to production.
The name of the underlying technology originates from its three distinct features: Continuous processing in a linear plate flow reactor; the use of a superimposed Oscillatory flow regime; and the STAtic mixing elements located in the process channel.
The static mixing elements enforce a split-and-recombine flow patern of the process stream, while a superimposed pulse allows you to dramatically improve, and regulate, the turbulence and consequently mass and heat transfer, independently from the net flow rate. Additionally, plug flow behaviour is astoundingly enhanced, ensuringa narrow residence time distribution. This is a true game-changer within the field of flow chemistry.
Continuous processing in a linear plate flow reactor
Oscillating flow regime
STAtic mixing elements located in process channel
As this pulsating split-and-recombine flow pattern technology decouples the hydrodynamics and net flow rate, an intense mixing at all flow rates can be achieved. This allows long irradiation times without the need for recirculation or very long process channels (ΔP!).
The resulting intense film refreshing and large specific irradiated area guarantee an efficient photon use. The reactor design allows a single-technology scale-up strategy, and the low pressure drop makes high-throughput operations feasible. With this technology, production scale photochemistry is now commercially available.
The complicated hydrodynamic task to process slurries in microfluidic systems without clogging (e.g. for photocatalytical reactions) has been succeeded. In addition, Peschl Ultraviolet offers ATEX certified Flow-Photocreactors in pilot- and production scale, along with a varity of different light sources, tunable spectral distributions as well as solid and liquid filters.
The application of through-window non-invasive spectroscopic analyses makes the reactor particularly useful for process development or integration in cGMP processes. Consequently, at every point of the process channel, the composition of the chemical matrix can be monitored via PAT methods. For instance, the point where 100% conversion is reached can be easily detected and the flow rate adapted to optimize reactor performance.
In terms of process development, kinetic data can be generated and plotted rapidly by means of PAT methods, such as Raman and near-infrared spectroscopic monitoring of the process stream.

Two types of Modular Photochemical Development Systems (MPDS®) are used in the laboratory. With the MPDS®BASIC system, fundamental feasibility studies are performed:
The photoLAB HANU™ 2X 5 is part of the MPDS®BASIC system. It consists of a plate-shaped flow photoreactor, the HANU™ 2X 5 with a volume of 5 ml as produced by Creaflow, a pulsator, and an integrated light module novaLIGHT HLED 25 with a power of 25 Watt.
With the so called MPDS®EVO, the process development can be performed to collect all relevant data for successful up-scaling.
The photoLAB HANU™ 2X 15 is part of MPDS®EVO system. It consists of a plate-shaped flow photoreactor, the HANU™ 2X 5 with a volume of 15 ml as produced by Creaflow, a pulsator, and an integrated light module novaLIGHT HLED 100 with a power of 100 Watt. In addition, further accessories for an automated process control can be adapted.
For that reason, this reactor set-up can already be used for commercial production whenever small volumes are required.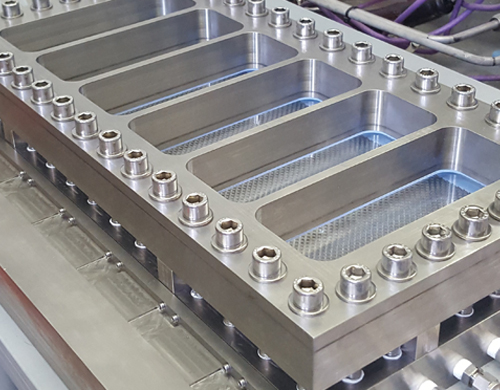 With HANU™ HX 150 Creaflow also has a commercial scale Flow reactor in portfolio with a volume of 150 ml.
Taking this step, commercial scale Plate shaped Photoreactors will be in planning.
We will keep you updated!
Features
Scalable UV & VIS Photochemistry
Large transparent window (borosilicate or quartz)
Excellent film resfreshment for optimal irradiance
Single-technology scale-up strategy up to multi-ton/year production
Demanding Conti-flow Processes
Hydrodynamics independent of net flow rate
Enabling long residence time reactions (via one-pass operation with no need for recirculation)
Performant for multi-phase reactions (e.g. slurries)
Multi-purpose Solution for cGMP manufacturingReactor is compliant with the PED 2014/68/EU art. 4.3
Irradiation sources available with ATEX certification
'open-shell' system allows straightforward cleaning and swap sampling (during cleaning validation cycles)
Assembled Unit Modularity
Maximum reactor flexibility via interchangeable process inlays and in/outlet ports
Available in different reactor material.
Typical applications
Conti-flow synthesis
Micro-emulsion polymerisation
Virus inactivation
Download
New brochure in process
Please enter your name and Email address to generate a download link directly.
Any questions?
Please ask us